This summer, Hat & Beard Press, the boutique publisher of books on Ray Bradbury, Lou Reed and David Lynch, will publish an edition of Moby Dick with illustrations by Wilson during author Herman Melville's 200th birthday year. Hat & Beard is a small press that specializes in beautiful art books tied to gallery shows, anniversaries and niche interests. The release date is June 2019.
"This is an amazing book that we're proud to be publishing," says J.C. Gabel, publisher of Hat & Beard Press. "Gilbert Wilson's work needs to be studied and appreciated by a wider audience, and we're happy to help that happen."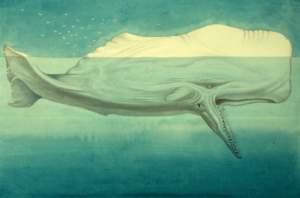 The print run for Moby Dick will be 1,200 copies, including a special slipcase edition that will include both Moby Dick and Edward K. Spann's biography of Wilson. We've already started shopping the paperback rights for just the biography, so Spann's book can be available for purchase beyond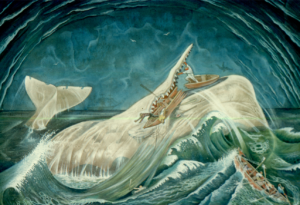 this special edition.
The books have the full support of both Wilson's and Spann's families, who have been great champions of the projects.
"I'm happy," said Allen Morrison, Wilson's nephew and last surviving relative, after hearing the news of 2019's Moby Dick. "The purpose of a book is so other that people can see his work, so that it's just not in a Terre Haute museum.
Morrison continued: "Gil would be flattered, of course. He always said nothing would be published until after his death. Several people have tried to do things about him; we've had some defeats before. To see people that weren't giving up on the story, he'd be pleased, honored and enthusiastic."
All images courtesy of the Swope Art Museum.